Buy Direct! Call 1-800-785-8820
Safe Secure Ordering


Lecterns / Podiums
High Quality - Handcrafted - Guaranteed
We Manufacture, Ship and Warranty
Pro-Series 1000 Lectern / Podium
Back Side View, Natural Oak with AC-101 Mic Holder an AC-301 Clock
Pro-Series 1000 "I" Style
Lectern or Podium
Our "I" Style lecterns / podiums are expertly handcrafted pieces of fine furniture
They come standard in oak with a natural finish and are available in other finish stains and woods
Made in the USA with hardwood base fine furniture quality A-1 veneers and solid wood moldings. Standard with a black laminate reading surface, wheels for ease of mobility and holes for easy cord access.
Standard size: : 25″W x 23″D x 47″H, 87lb
They arrive Fully Assembled and Ready for Use.
Which is it a podium or a lectern?
Our lecterns or podiums can be customized with our many options and accessories.


PS 1000 Medium Oak
with two bronze plaques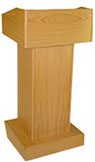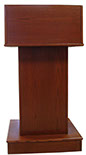 Finish Stain Samples
Copyright © 2020 ESKP Bestlectens.com All rights reserved.
order and info:
Call 1-800-785-8820 or 1-801-558-4781